With Brad Friedman & Desi Doyen...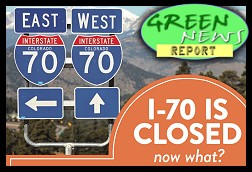 IN TODAY'S RADIO REPORT: Looks like Infrastructure Week is finally happening; Major U.S. interstate in Colorado shut down indefinitely by wildfire-related mudslide; County in Washington State passes America's first-ever ban on new fossil fuel infrastructure; PLUS: Massive new wildfires force evacuations in Greece, Turkey and Italy... All that and more in today's Green News Report!
Got comments, tips, love letters, hate mail? Drop us a line at GreenNews@BradBlog.com or right here at the comments link below. All GNRs are always archived at GreenNews.BradBlog.com.
IN 'GREEN NEWS EXTRA' (see links below): The Bipartisan Bill Enters The Amendment Process, Length TBD; Big banks, financial firms hatch plan for Asian coal-fired closures; Western Wildfires Are Sending Carbon Offsets Up in Smoke; Tokyo Olympics may be hottest ever; Biden mileage rule to exceed Obama climate goal; Shell sponsored a museum exhibit on climate solutions, with strings attached; A Geothermal Energy Boom May Be Coming, and Ex-Oil Workers Are Leading the Way; Google is quietly trying to find out if hard drives are recyclable... PLUS: DHL Express buys electric cargo planes for U.S. package delivery... and much, MUCH more! ...
STORIES DISCUSSED ON TODAY'S 'GREEN NEWS REPORT'...
I-70 shut down 'indefinitely' due to wildfire-related mudslide:
Infrastructure Week is finally happening:
Greenland ice sheet sees massive single-day melt event:
Six major regions grappling with massive wildfires:
Renewable energy surpasses coal in U.S. electricity mix in 2020:
Whatcom Co., WA enacts first-ever ban on new fossil fuel infrastructure:
'GREEN NEWS EXTRA' (Stuff we didn't have time for in today's audio report)...
For a comprehensive roundup of daily environmental news you can trust, see the Society of Environmental Journalists' Daily Headlines page
---
FOR MORE on Climate Science and Climate Change, go to our Green News Report: Essential Background Page
NASA Video: If we don't act, here's what to expect in the next 100 years: