Evening Edition...
Guest Blogged by John Gideon of VotersUnite.org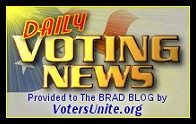 6 days until Election Day.
Today a federal judge found in favor of the voters of Pennsylvania and ordered the state to require every polling place to be prepared to hand out paper ballots to voters any time 50% or more of the polling places voting machines go down for any reason.
The Election Assistance Commission announced today that they were intending to suspend SysTest Labs accreditation to test voting systems. This action follows the suspension of the lab by the National Voting Laboratory Accreditation Program (NVLAP) of the National Institute of Standards and Technology. The suspension was for SysTest's lack of properly documented and validated test methods, testing conducted by unqualified or untrained personnel, and improper assurances made to manufacturers regarding testing outcomes. This loss of accreditation will probably affect SysTest's ability to complete testing for the state of New York. It also brings into question all recent testing done for the state of Colorado and Ohio and all previous testing of voting systems under the previous NASED system. ...
**"Daily Voting News" is meant as a comprehensive listing of reports each day concerning issues related to election and voting news around the country regardless of quality or political slant. Therefore, items listed in "Daily Voting News" may not reflect the opinions of VotersUnite.Org or BradBlog.Com**
!--more-->