With Brad Friedman & Desi Doyen...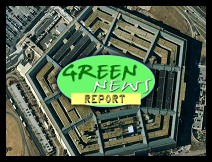 Now available on Apple iTunes!
Subscribe for FREE here!...
IN TODAY'S AUDIO REPORT: Climate change a threat to national security; Heat wave in the Arctic leads to accelerated melting; Former Governor Sarah Palin, denied; EPA comes clean ... PLUS: 230 miles per gallon? It's on the way... All that and more in today's Green News Report!
Got comments, tips, love letters, hate mail? Drop us a line at GreenNews@BradBlog.com or right here at the comments link below. All GNRs are always archived at GreenNews.BradBlog.com.
IN 'GREEN NEWS EXTRA' (links below): Arizona's economic future threatened by unabated groundwater use; Cement that Eats Carbon Dioxide; Dry cleaners leave a toxic legacy in Illinois, despite cleanup efforts; the Food, Energy and Environment 'Trilemma'... PLUS: First U.S. "Power Tower" Lights Up California...
Info/links on those stories and all the ones we talked about on today's episode follow below...
Climate Change Seen as Threat to U.S. Security (NY Times)


The changing global climate will pose profound strategic challenges to the United States in coming decades, raising the prospect of military intervention to deal with the effects of violent storms, drought, mass migration and pandemics, military and intelligence analysts say.
...
Recent war games and intelligence studies conclude that over the next 20 to 30 years, vulnerable regions, particularly sub-Saharan Africa, the Middle East and South and Southeast Asia, will face the prospect of food shortages, water crises and catastrophic flooding driven by climate change that could demand an American humanitarian relief or military response.

Climate Change as Security Threat Is Nothing New (Greenbiz.com)
Climate Change & National Security: A Tough Sell (Washington Post)
Vast expanse of Arctic ice melting (Globe & Mail) [emphasis added]:


The Arctic Ocean has given up tens of thousands more square kilometres of ice in a relentless summer of melt, with scientists watching through satellite eyes for a possible record low polar ice cap.
...
Global average temperatures rose 0.6 of a degree in the past century, but Arctic temperatures rose twice as much or even faster, almost certainly in good part because of man-made greenhouse gases, researchers say.

Glacier melt accelerating, federal report concludes: Reviewing five decades of data on three 'benchmark glaciers,' researchers say that shrinking glaciers clearly result from global warming (LA Times)
Climate change melting US glaciers at faster rate, study finds:US geological survey commissioned by Obama administration indicates a sharp rise in the melt rate of key American glaciers over the last 10-15 years (Guardian UK)
Legislature overrides Palin's veto on stimulus (Anchorage Daily News)
Alaska Lawmakers Override Palin Veto (NY Times)
EPA's Chief Orders Full Staff Cooperation With Agency Auditors (Greenwire.com)
'GREEN NEWS EXTRA': More green news not covered in today's audio report... See below!