Guest Blogged by John Gideon of VotersUnite.org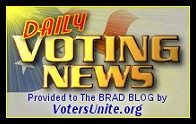 Today a very heated debate began in the Texas legislature over a more robust Voter ID law than the state presently has. The new legislation would require a photo identification or the use of alternative forms of identification such as utility bills or bank statements on top of a voter registration card or other personal identification. The GOP will call witnesses to include officials from Georgia and Indiana, two of the states that require a photo identification. Democrats will be calling witnesses from civil rights organizations.
Al Franken's attorneys, in Minnesota, have said they will probably rest their case tomorrow. ...
**"Daily Voting News" is meant as a comprehensive listing of reports each day concerning issues related to election and voting news around the country regardless of quality or political slant. Therefore, items listed in "Daily Voting News" may not reflect the opinions of VotersUnite.Org or BradBlog.Com**