Morning Edition
Guest Blogged by John Gideon of VotersUnite.org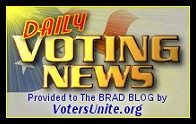 This is it. The day we have been waiting for.
Problems began first thing this morning with machine failures in New Jersey. There were also reports of memory cards failing on AVS Winvote machines in Fairfax Co Virginia. The wet weather in some states has caused problems with paper ballots that have swollen enough to not work in optical scan machines. The ballots are being put in ballot boxes until they dry enough to be run. Voting machines in 8 Philadelphia precincts have failed and emergency paper ballots are being passed out.
Voting machines supplied for voters with disabilities have been removed from use by order of a court. The counties Hart Intercivic eSlates failed to register straight-party votes properly. ...
**"Daily Voting News" is meant as a comprehensive listing of reports each day concerning issues related to election and voting news around the country regardless of quality or political slant. Therefore, items listed in "Daily Voting News" may not reflect the opinions of VotersUnite.Org or BradBlog.Com**