Guest Blogged by John Gideon of VotersUnite.org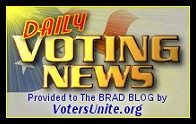 3 days until Election Day.
Just a comment to those who want to dismiss 'vote-flipping' as voter error. All kinds of people go to the polls to vote. They are highly educated and high-school dropouts. Rich and poor. They have long fingernails and nails bitten to the quick. They have thin fingers and wide fingers. They are going to softly touch the screen or touch it hard. Vendors and election officials tend to blame vote-flipping on the voters. They touched the screen too hard; drug their finger; had long fingernails; or their fingers touched too large an area. So, is it the voters fault? NO! It is the vendors who designed, built and sold these machines that don't work for all voters and it is the election officials who bought those machines.
A large majority of the 'vote-flipping' has been on older ES&S iVotronic DREs; those machines that were featured on last year's Dan Rather Reports. The cheaply built, poorly tested touch screens that were used as components on those systems should have been scrapped long ago. It's not the voters fault and this constant pointing of fingers is wrong. The vendors need to remember that when they point a finger at the voters they have three fingers pointing back at the real culprit, themselves; and it makes no difference what those fingers look like, they are the fingers of blame....
**"Daily Voting News" is meant as a comprehensive listing of reports each day concerning issues related to election and voting news around the country regardless of quality or political slant. Therefore, items listed in "Daily Voting News" may not reflect the opinions of VotersUnite.Org or BradBlog.Com**