Evening Edition
Guest Blogged by John Gideon of VotersUnite.org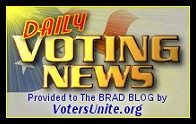 4 days until Election Day.
This from a statement by U.S. Rep. John Lewis this morning, during a state Capitol press conference to discuss those long waits to vote:
"We are requesting that the Secretary of State [Karen Handel] use Florida and North Carolina as an example. We ask that she extend early voting in Georgia through Saturday, Sunday, and Monday. We believe the number of poll workers should be increased at polling sites where a large turnout is expected.
"She must increase the number of voter registration machines at locations where there is large turnout, and we are calling on Governor [Sonny] Perdue and Karen Handel to request emergency voting rights pre-clearance from the Department of Justice to clear the path for these changes.
"My office is preparing a letter right now, advising the Attorney General Mukasey of these issues in Georgia and encouraging him to grant emergency pre-clearance, when it is requested."
It is still unknown whether the state is interested in letting their citizen's voices be heard....
**"Daily Voting News" is meant as a comprehensive listing of reports each day concerning issues related to election and voting news around the country regardless of quality or political slant. Therefore, items listed in "Daily Voting News" may not reflect the opinions of VotersUnite.Org or BradBlog.Com**