Guest Blogged by John Gideon of VotersUnite.org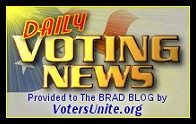 According to today's 'Featured' article: With record voter turnout expected at the polls this November, the Election Protection coalition, which includes the Lawyers' Committee for Civil Rights, National Association for the Advancement of Colored People (NAACP), and Rock the Vote say they have prepared the largest and most comprehensive election watch effort ever undertaken.
"We're confident that we can help millions of Americans overcome obstacles to make sure their votes count," said Jonah Goldman, director of the National Campaign for Fair Elections, part of the Lawyers' Committee.
The primary tool will be a toll-free phone number, 1-866-OUR-VOTE (and its Spanish counterpart 1-888-VE-Y-VOTA), a nonpartisan confidential voter services hotline. ...
**"Daily Voting News" is meant as a comprehensive listing of reports each day concerning issues related to election and voting news around the country regardless of quality or political slant. Therefore, items listed in "Daily Voting News" may not reflect the opinions of VotersUnite.Org or BradBlog.Com**