Guest Blogged by John Gideon of VotersUnite.org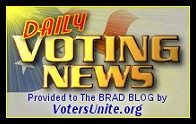 In a clear victory for Ohio voters a federal judge and the State Supreme Court all agreed that voters can register to vote and vote all on the same day within a week-long period during early voting. The courts found that Secretary of State Brunner had, in fact, correctly interpreted a law passed by the state legislature.
Are you busy on Nov. 4? Of course you are going to vote but how about the rest of the day? Contact your county and volunteer to work for the election department for the day. Be a poll worker or work at the election office supporting the officials. Be involved. ...
**"Daily Voting News" is meant as a comprehensive listing of reports each day concerning issues related to election and voting news around the country regardless of quality or political slant. Therefore, items listed in "Daily Voting News" may not reflect the opinions of VotersUnite.Org or BradBlog.Com**