Guest Blogged by John Gideon of VotersUnite.org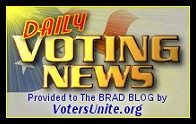 The election nightmare may be over in Palm Beach Co., Florida. After seven recounts, machine and hand, the election for a county circuit court seat has been certified. The losing candidate, of course, is considering legal actions. Still not explained is how ballots were lost then found and how the machines just couldn't seem to get an accurate count. Sequoia should have some explaining to do beyond just "No, no, no, it wasn't us."
Think no one is using punch-cards anymore? You're wrong. Eight counties in Idaho are still using them and they like them.
Over 25 years ago Paul Weyrich, one of the founders of the Heritage Foundation and the Christian Coalition and a "Godfather" of the Conserviative movement said this about voting:
Now many of our Christians have what I call the goo-goo syndrome - good government. They want everybody to vote. I don't want everybody to vote. Elections are not won by a majority of people, they never have been from the beginning of our country and they are not now. As a matter of fact, our leverage in the elections quite candidly goes up as the voting populace goes down.
Democracy is effective only when everyone participates. Please don't be left out on election day. Make sure you are registered to vote now and ensure all of your information is correct and up-to-date and then exercise your right to that vote on election day. Many states have a registration deadline the first week of next month. Find out where to go to get information from your state here: ...
**"Daily Voting News" is meant as a comprehensive listing of reports each day concerning issues related to election and voting news around the country regardless of quality or political slant. Therefore, items listed in "Daily Voting News" may not reflect the opinions of VotersUnite.Org or BradBlog.Com**