Guest Blogged by John Gideon of VotersUnite.org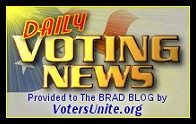 Early voting has begun, as of today, in Georgia, Kentucky, Virginia, and South Carolina.
Colorado doesn't begin early voting until October 20 and it is probably a good thing because the ballot is so long that the voters guide is 144 pages long.
Palm Beach Co Florida still has no final results to report. My guess? They will end-up with the court deciding that this race go back on the ballot and the voters will be asked to do it over again.
Last but certainly not least is the plea once more that everyone who reads this check to ensure their voter registration is still good and that every piece of information is correct and up-to-date....
**"Daily Voting News" is meant as a comprehensive listing of reports each day concerning issues related to election and voting news around the country regardless of quality or political slant. Therefore, items listed in "Daily Voting News" may not reflect the opinions of VotersUnite.Org or BradBlog.Com**