Guest Blogged by John Gideon of VotersUnite.org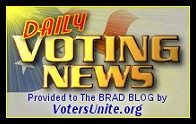 "On June 26, 2008, Senator Dianne Feinstein (D-CA) and Senator Robert Bennett (R-UT) introduced the Bipartisan Electronic Voting Reform Act (S. 3212). The press release accompanying the introduction of S. 3212 observes "the ability to ensure there is an accurate, reliable and transparent method for Americans to cast and count votes is fundamental to our democratic process." Unfortunately, S.3212 falls far short of ensuring accuracy, reliability, and transparency in our elections and is likely to do more harm than good.
"The bill contains some generally commendable provisions relating to election security (Section 4), voting system testing and certification (Section 5), and ballot layout design (Section 10), but the positive aspects of these provisions are outweighed by the problems created by many of the other sections of this bill. Despite its worthy motivations, the bill fails to carry out its objective."
Thus begins the review of S.3212 by VerifiedVoting. We agree with these statements and the conclusions of VerifiedVoting. This bill gets a hearing this Wed., 30 July in the Senate Committee on Rules and Administration. It needs to be defeated....
**"Daily Voting News" is meant as a comprehensive listing of reports each day concerning issues related to election and voting news around the country regardless of quality or political slant. Therefore, items listed in "Daily Voting News" may not reflect the opinions of VotersUnite.Org or BradBlog.Com**