Whew! What A Scandalicious Week.
Guest blogged by DES...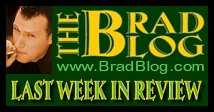 It's hard to believe that in this week alone, we've gone from a major blowup over the politically-motivated firing of eight U.S. Attorneys to the riveting testimony of outed, covert CIA officer Valerie Plame Wilson, speaking publicly for the first time since her cover was blown in another politically-motivated disinformation campaign, in the newest installment of the CIA Leak scandal. It's been quite the scandalicious year so far, in what Brad had dubbed "The Year of Accountability." So far, it's right on target.
In the midst of all the drama on the Hill, blind and disabled voter advocates and groups called for the "immediate ban of DRE/touch-screen voting systems" in a major announcement that debunked the myths peddled by supporters of these hackable, crappy machines. And Justice was sort of served as two Ohio elections workers were finally convicted for rigging the recount in the 2004 Presidential Election --- although there is currently no scheduled "do-over" to find out the actual count. Justice and government accountability are still being denied to whistleblowers and voters in Florida. In case you missed these and other exciting stories during this roller-coaster ride of revelations, here's last week's review...
MONDAY, March 12th...
Rove Directly Implicated by New Mexico GOP in U.S. Attorney Firings
State Party Chair Admits Bush's Right-Hand Man Claimed 'He's Gone' After Demands to Fire David Iglesias
New York Times Calls for Gonzales's Head, but The BRAD BLOG Calls for Bush's...

Sunday Toon of the Moment...
CANCELLED, LIKE CANDORVILLE, BY THE LOS ANGELES TIMES
TUESDAY, March 13th...
LIBBY TRIAL: Rightwing Noise Machine Launches an Attack on the Verdict
Republican Commentators Misstate Chronology, Facts
Corporate Mainstream Media All Too Happy to Offer the Platform for Demonstrable Untruths...
*** Special to The BRAD BLOG
*** by Libby/CIA Leak Trial Correspondent Margie Burns

Rice Ignored Congressional Info Requests on Bogus Iraq/Uranium Claims...

We'd say this new report further underscores our recommendation to keep an eye on Waxman's Congressional Oversight Committee and his investigation into the Iraq uranium/yellowcake scam by the White House...

FL-13: Company Warned of Touch-Screen Voting System Defect, But Sarasota Declined to Fix Machines or Caution Voters
FULL LETTER POSTED: ES&S Urged State, Local Officials to Take Corrective Measures Three Months Prior to Contested Jennings/Buchanan Race Last November
Election Integrity Advocate's Warning About Bug Also Ignored Both Before and After Election...

Ohio Election Workers Sentenced to 18 Months for Rigging 2004 Presidential Recount
Judge Says He Believes the Conspiracy Goes Higher...
WEDNESDAY, March 14th...
BLIND AND DISABLED VOTER ADVOCATES, GROUPS CALL FOR 'IMMEDIATE BAN' OF DRE VOTING SYSTEMS!
Two Different Statements from Civil Rights Leaders Call for Discontinuation of Unsecure, Unverifiable, Disenfranchising DRE/Touch-Screen Voting Technology
Both Destroy Myth of Need to Sacrifice Verifed Ballots for Accessibility...

Sibel Edmonds Asks For Your Help Again in Forcing Congress to Allow Her to Tell Her Story
'Gagged-Ordered' FBI Whistleblower Calls on BRAD BLOG Readers to 'Demand, Beg and Implore' Congressional Dems to Announce Public Hearings
'State Secrets Act' Still Used by DoJ to Prevent the Fired Translator from Testifying on 9/11, Corruption by Hastert, Perle, Feith...
Guest Blogged by Luke Ryland
THURSDAY, March 15th...
Ann Coulter...In Desperation...Plugs Her New Book
True Conservative, Guest Blogger Daniel Borchers, on Coulter's Fall from Grace, Her Continued Discrediting of the Conservative Movement, and His Experience With her Thugs at CPAC...
Guest blogged by Daniel Borchers of Citizens for Principled Conservatism

EXCLUSIVE: New Details on the Phony 'Voter Fraud' Angle in the U.S. Attorneys Purge Scandal...
An Insider's Report from a New Mexico Election Attorney on the Firing of David Iglesias and the Rove/DoJ/Republican Efforts to Create a 2004 'Voter Fraud' Scare in the State...
RELATED? - The GOP 'Voter Fraud' Front Group ACVR Goes Suddenly AWOL!
FRIDAY, March 16th...
SATURDAY, March 17th...
Happy Anniversary.
Four Years Of 'Mission Accomplished'...And Counting...