Guest blogged by David Edwards of Veredictum.com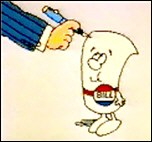 Video in Streaming Flash format...
Video in Windows Media format...
Audio in MP3 format...
The BRAD BLOG is reporting that Bush signed a bill into law before it passed both houses of Congress:

11 ranking Members of the United States House of Representatives will be filing a law suit in U.S. District court on Friday,
The BRAD BLOG
has learned, seeking a permanent injunction of "Deficit Reduction Act" which George W. Bush signed into law on February 8th of this year, despite its not having passed both houses of Congress.
Rep. Fortney "Pete" Stark is reported to have said, "Schoolhouse Rock has taught generations of Americans how a bill becomes a law..."
We dug up this video to remind the President of the proper Constitutional procedure for signing a law.