Guest blogged by David Edwards of Veredictum.com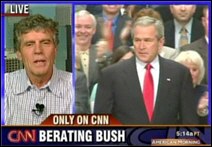 Video in Streaming Flash format...
Video in Windows Media format...
Yesterday, Mr. Bush delivered another Iraq War PR speech which was sponsored by the nonpartisan World Affairs Council of Charlotte at Central Piedmont Community College in Charlotte, North Carolina.
After the speech, Bush accepted questions from the audience. Harry Taylor shamed The President with his question. Taylor mentioned NSA domestic spying, detaining Americans with being charged, policies that hurt the enviroment. Taylor told Bush that he was ashamed of the U.S. Government. Taylor finished his question by saying, "I would hope you have, from time to time, the humility and the grace to be ashamed of yourself... inside yourself."
In this video, Soledad O'Brien interviews Harry Taylor about his televised of berating President Bush.