Guest blogged by David Edwards of Veredictum.com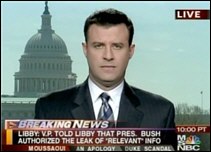 Video in Streaming Flash format...
Video in Windows Media format...
The New York Sun reports that a court filing by Patrick Fitzgerald reveals that President Bush authorized blanket leaks of classified information to reporters. According to the court filing of Libby's testimony to the grand jury, the Vice President Cheney told Libby that President Bush had authorized him to leak classified information from the National Intelligence Estimate.
David Shuster who has been following the "Plame case" closely reports on the breaking news for MSNBC. The Raw Story has more information.