Guest blogged by David Edwards of Veredictum.com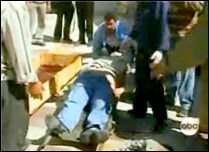 Video in Streaming Flash format...
Video in Windows Media format...
Responding to the President's criticism of the media coverage of Iraq, ABC's Nightline, airs the story of an attempt to report on good news in Iraq.
After a day of covering the horrible violence in Iraq, ABC reporter Jake Tapper tried to find some lighter news. The ABC News team decided to cover a new Iraqi sitcom and the challenges of creating comedy for Iraqi television viewers.
The story quickly turned from good news to tragedy and fear as Jake's contact, who was also the head of the entertainment division for Iraqi TV, was murdered during filming.
Jake Tapper concludes the story with these words: "And there went our effort to show comedians trying to make Iraqis smile again. It ended with the funeral of the man who helped us put the story together. A horrible, gruesome, perfect metaphor for daily life in Iraq."