Guest blogged by David Edwards of Veredictum.com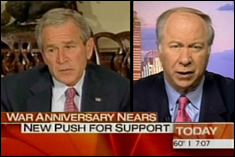 Video in Streaming Flash format...
Video in Windows Media format...
Audio in MP3 format...
As the third anniversary of the Iraq War nears, President Bush and other administration officials will begin delivering speeches today designed to bolster public opinion of the Iraq war. President Bush's first speech will focus on the threat of improvised explosive devices (IEDs) and the readiness of Iraq troops.
Former presidential advisor David Gergen says that a PR campaign is the wrong direction. He says that the White House should tell the truth about the situation on the ground in Iraq.