Guest blogged by David Edwards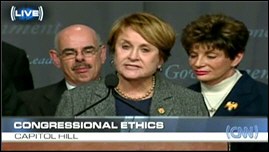 Video in Streaming Flash format
Video in Windows Media format
Earlier today, Democrats in Congress
unveiled
the "Honest Leadership, Open Government Act" which they hope will restore a measure of honesty, integrity and transparency to government.
While a number of Democrats spoke with high aspirations, Louise Slaughter's speech may have presented the strongest indictment of Republican ethics:

But today we're suffering the consequences of what may be the worst corruption in the nation's history. As everybody has mentioned before, we all know about the majority leader. We know about the man who left the White House in handcuffs. We know about the Republican congressman who pled guilty, and there are many more coming. Every day we pick up the paper and yet there is even more.
What we're up against isn't just the shameful work of individuals like these. It's a much broader problem. It's a problem that is rooted in the Republican establishment that has held power in this nation's capital for far too long.
Sadly, their legacy has been the fundamental degradation of our democratic institutions and the abandonment of core principles.
...
And under Republican guidance, America has truly been put up for sale to the highest bidders.
Here is the full transcript of Representative Slaughter's speech.