As Another Time magazine reporter agrees to testify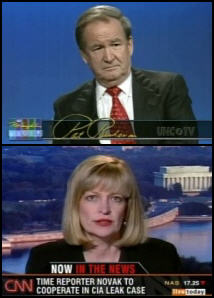 Guest blogged by David Edwards
On Sunday's edition of the PBS's The McLaughlin Group, Pat Buchanan predicted that there will be more indictments in the Valerie Plame/CIA Leak case. It was a quick comment that we would have missed if not for Brad's keen eye. Predicted Buchanan at the end of the show: "Scooter will not be the last indictee."
Several news services have now confirmed that Time magazine reporter Viveca Novak (no relation to Bob) has agreed to testify under oath regarding conversations she had with Karl Rove's lawyer Robert Luskin.
What do these new developments mean for the case? Jane and ReddHedd at firedoglake have some ideas.
Video in Windows Media format...
Video in QuickTime format...