In Case You Missed 'Em.... A Quick Look Back at the Week That Was
Guest blogged by DES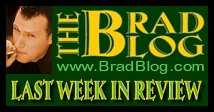 Posting a more streamlined review on this holiday weekend to take advantage of the beautiful weather (while also dealing with some technology issues yet to be sorted out, so no added graphics)... Below you'll find the most notable of notable stories posted last week to The BRAD BLOG.
From new revelations about the machinations of fox-in-the-henhouse Federal Elections Commission director Hans Von Spakovsky, to the great unraveling of the politicization of the Department of Justice and the bombshell testimony of former DoJ staffer Monica Goodling, to another exclusive report from Greg Palast expanding on the GOP 'Voter Fraud' scam, and the heroic efforts of individuals like Texas State Senator Mario Gallegos to hold the line at great personal cost. Plus a handful of interesting and funny bits in the media this last week, from a wide-ranging discussion between Brad and radio host Tony Trupiano, to the insightful season finale of Bill Maher's Real Time, for your listening and viewing pleasure.
And, oh yeah, more BRAD BLOG readers think Al Gore will run, than think he won't. But what do they know?
A quick review of the following will get you all caught up for whatever thunder will inevitably roll this coming week, as the cicadas crawl out of the ground after 17 years and the rest of us fire up the barbie and celebrate the unofficial start of summer...
--- Click here for REST OF STORY!... ---



Comments Off