Guest blogged by David Edwards of Veredictum.com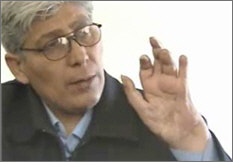 Video in Streaming Flash format...
Video in Windows Media format...
Ali Shalal Qaissi was the mayor of a town near Baghdad before he was arrested and taken to Abu Ghraib prison. While detained, Mr. Qaissi was subjected to torture including electrocution. He says, "I felt my eyes popping out. Once I bit my tongue and and blood started coming out of my mouth."
Mr. Qaissi underwent psychological and physical abuse techniques developed by the CIA and perfected at Guantßnamo by General Miller. Under orders from Secretary Rumsfeld, General Miller spread his school of torture developed at Guantßnamo to U.S. detention centers in Iraq and other secret prisons throughout the world. Take a look at this video interview with Professor Alfred McCoy for more information about how the Bush Administration has made torture a permanent policy of the U.S.
The New York Times initially reported that Ali Shalal Qaissi was the prisoner in the now-famous-picture of a hooded man standing on a box with electrical wires connected to his hands. While the media has produced only a few articles on the Ali Shalal Qaissi's horrifying story, scores of articles have been written about the fact that The Times may have misreported the exact photo in which Qaissi was pictured.
During Ali Shalal Qaissi imprisonment, his wounded hand was infected after "a US soldier stamped on it." As reported in the video, Qaissi's deformed hand makes him easier to identify in the photos.
UPDATE: VIDEO - CNN Reports on "Hooded Man" Photograph Confusion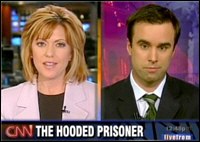 Video in Streaming Flash format...
Video in Windows Media format...
CNN's Kyra Phillips interviewed Salon.com author Michael Scherer who is challenging The New York Times assertion that Ali Shalal Qaissi appeared in the most famous of the Abu Ghraib "hooded man on box" photo.
CNN's interview (and many other reports in the media) focus on an error made The Times. Mr. Qaissi's claim that he was tortured in Abu Ghraib and that he appeared in one or more of the "hooded man on box" photos has not been challenged. Nonetheless, all of the attention on mistakes in reporting may taint Mr. Qaissi's reputation and hurt his efforts to bring attention to the atrocities being committed by our government.
At one point in this interview, Kyra Phillips actually asks "... are these prisoners trying to capitalize on these pictures? Are they looking for opportunities to make money?"